Portfolio: Web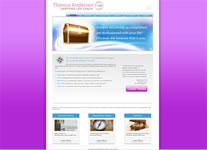 Client: Theresa Andersen
Description: Informational website for self-employed life coach (www.discoverthetreasurethatisyou.com)
click here to read the excerpt
Discover the Treasure that is You
Do you feel blocked, stuck, disillusioned or trapped in your life?
Reconnect with your essential self quickly and effectively with Theresa Andersen, an award-winning educator with over 12 years of experience developing hands-on education programs that work.
Let Theresa guide you through the exciting process of self-discovery enabling you to:
awaken parts of yourself that have been unattended or buried for years
access knowledge about yourself that you may not be consciously aware of
rediscover your invaluable body compass; it can keep you connected to your essential self
learn how to navigate your own life and be in charge of what you really want in life
"lift the veil" and rediscover who you are really meant to be in this lifetime
Whether you prefer to work with a coach one-on-one or in a group; face-to-face, via telephone or online, Theresa will provide you with the tools to live a passionate and balanced life.
Individual Coaching - Benefit from private coaching in a series of one-to-one telephone coaching sessions
Teleconference Classes – Learn and explore within the supportive environment of a group
Workshops – Participate in a live learning event with Theresa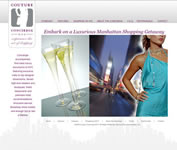 Client: Couture Concierge NYC

Description: Descriptive website for concierge company offering accompanied, high-end shopping experiences to New York City (www.coutureconciergenyc.com)
click here to read the excerpt
Experience the Art of Shopping
Embark on a Luxurious Manhattan Shopping Getaway
Pamper yourself.
Leave your everyday world behind.
Experience an unforgettable, four-day fashion shopping extravaganza like no other to New York City with your close friends.
Concierge-accompanied, first-class luxury excursions for four to six women to NYC
Visit the City's top designer fashion showrooms
Shop at famous high-end retailers and boutiques
Dine in New York City's finest gourmet restaurants
Stay at one of Manhattan's landmark posh hotels
Travel safely and elegantly via private limousine service
Take in an award-winning, hit Broadway show